STEP ONE: Get to know the city
Prague is comprised of numbered districts, that kind of spiral out from the center. If you don't want a long commute, you'll want to live somewhere in Prague 1 - 10.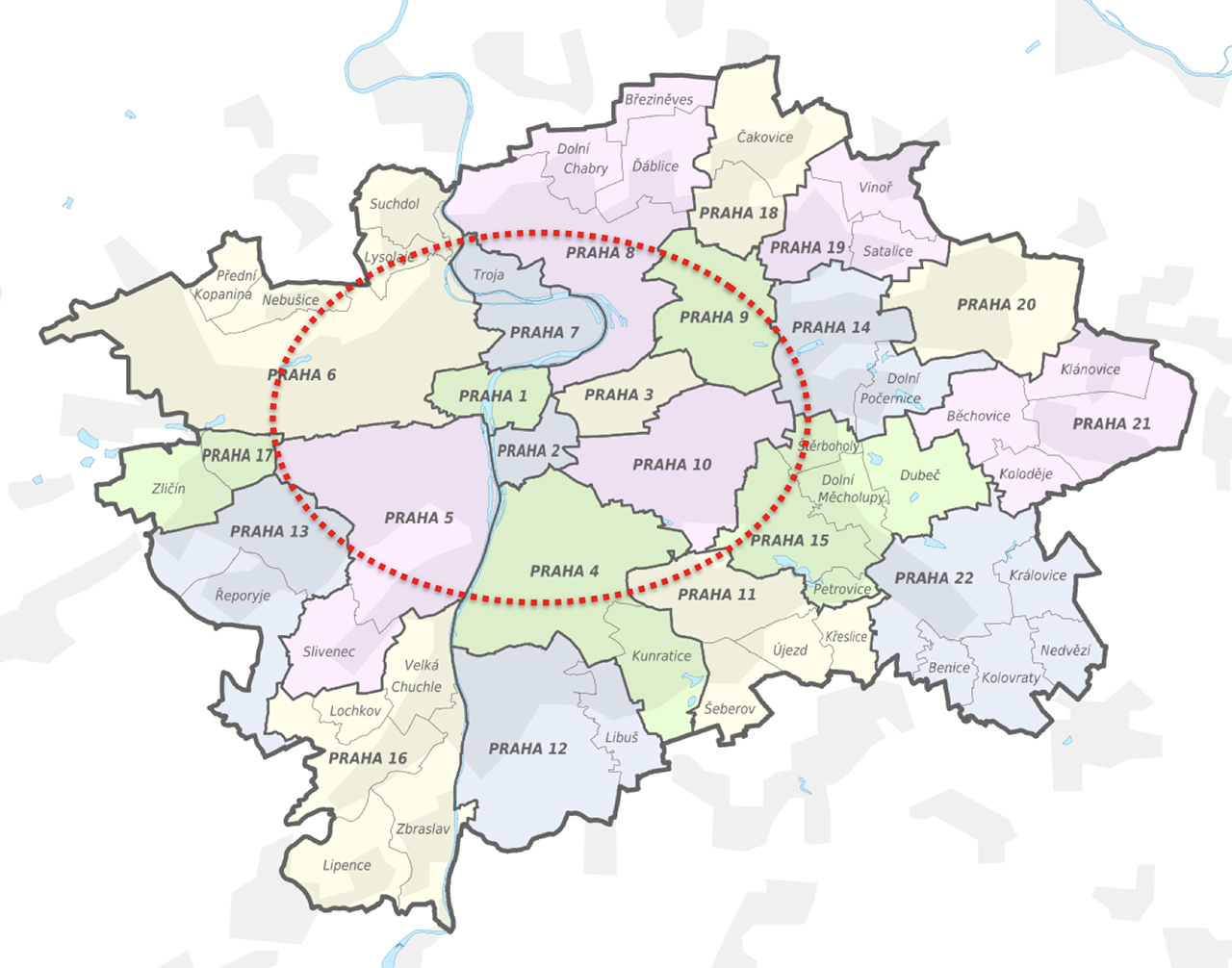 Within each district, there are several neighborhoods, with their own names, and they can overlap districts.
Prague 1 has Nové Město and Staré Město, Josefov and is the historical center of Prague, choc full of all its famous monuments. It's very touristy, with prices to driven skyward by AirBNB rentals. Even if you can afford Prague 1, consider the throngs of tourists just outside your window and the higher priced restaurants and bars catering to them. Prague 1 is great to visit, but you wouldn't want to live there.
Prague 2 has Vinohrády and Výšehrad. Vinohrady, meaning "Royal Vineyards" is probably the most expensive part of Prague after Prague 1 and Prague 6. It's full of expats and well-to-do Czechs, with lush tree-lined streets, and countless restaurants, centered around Naměstí Míru, a square and a stop on the A-Line metro. Also great proximity to Riegrovy Sady park and beer garden. Výšehrad is further south, and was the spot of Prague's first castle on a hill.
Prague 3 is mostly what we used to call "gritty" Žižkov. But like everywhere in Prague, it's getting cleaner and safer. A lot of young expats live here, it's next to JZP, a very convenient metro and Riegrovy Sady a park with a gorgeous view and a beer garden where expats pretty much live from April until October.
Prague 4: Is quite large, but the northern part, Nusle is just beneath the steps to Vinohrady, and has an authentic Czech feel (because you're not moving to Prague to hang out with expats, right?) It hosts good cheap authentic Czech pubs and is so accessible to I.P. Pavlova (C line metro) by trams, that you're likely to get your money's worth there.
Prague 5 is Smíchov, located on the western side of the Vltava, was once more industrial and filled with factories (and Staropramen Brewery), but it's now a thriving center for commerce, with Shopping Center Nový Smichov as the center. Excellent Public Transit to the center.
Prague 6: Bubuneč and Dejvice are quieter areas for well-to-do Czech families and Diplomats, because of the close proximity to Prague Caste and accompanying embassies.
Prague 7: Letná is home to the great Letná park and beer garden with epic views of the city. Holešovice seems like a self-contained city, with plenty of local restaurants, pubs and reasonabale rents.
Prague 8: Karlín was hit hard by a flood in 2002 and 17 years later, it has been rebuilt and gentrified with a vengeance. It has a grid layout, making it feel very neighborhood-y. New bistros and bars seem to pop up monthly. It's nestled at the base of Vítkov Hill, making it slightly difficult to get to Žižkov and Vinohrady without taking a tram or metro into the center and then back out again.
Prague 9: Libeň borders Žižkov, Karlín and Holešovice, making it easy to take advantage of many areas by a quick tram ride.
Prague 10: Krymská Street in Vršovice was recently written up as the New York Times Top 12 Streets in Europe, and everyone in Prague went, "huh?" But it's true—the neighborhood has a local, funky charm not seen inside the city limits. (Prague's very own Brooklyn/Oakland?) You'll find brunch stops, retro cafes, and vintage shops hidden behind graffitied doors.
You'll need these district numbers and neighborhood names as you start to look for flats online.
So when you first arrive in Prague, take your map to the streets and get a feel for some of these districts to determine where you want to live, and where you don't.
The closer you are to the center, the higher rent you will pay.
LOCATION, LOCATION, LOCATION
You'll be using public transportation a lot, and close proximity can cut back your commuting time. Is the flat near a metro stop? A tram or bus stop? What lines take you from there to the center (which we can loosely define as the three transfer stations of the metro:
? What night trams can get you home after a late night out? Prague is a very safe city, but do you feel safe in that area?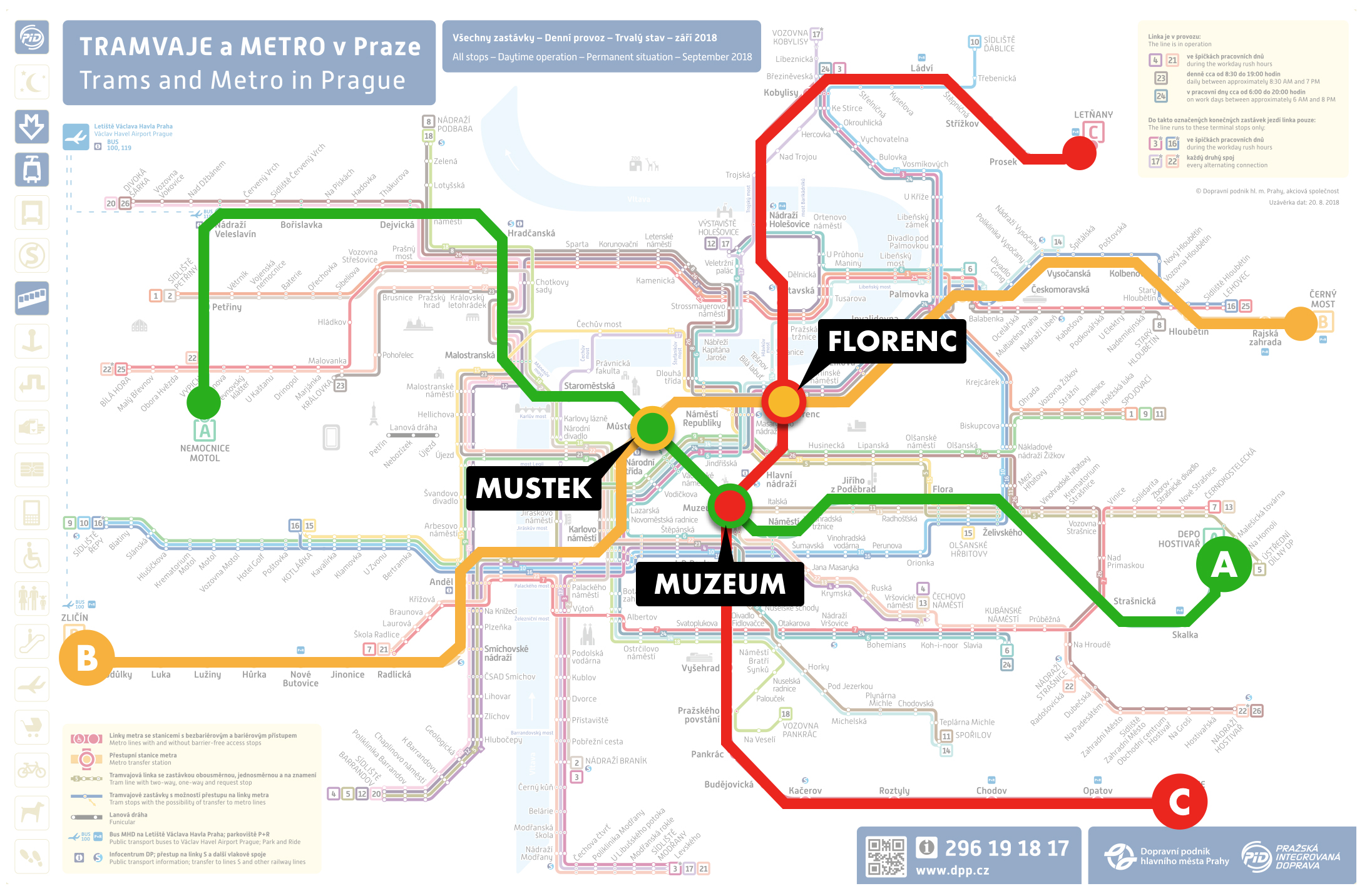 What about groceries? Are you near markets or Potravinys? A potraviny is a like a quickie mart, and proximity to them will be very important to you when you run out of ramen, milk or beer.
How close are you to recreational spaces? The big parks in Prague offer beer gardens (Stromovka, Riegrovy Sady and Letná), wine terraces (Grébovka), meandering walks and epic views (Petřín) and endless space to picnic or bring your dog when the weather is nice.